Home
Welcome to the Website of the Mobile Eye-Tracking Laboratory Freiburg (MobEyeLab Freiburg). Our Lab uses Mobile Eye-Tracking-Glasses to conduct research on the role of gaze in social interaction. The MobEyeLab aims to shed light on the coordination of gaze and verbal behavior, in order to provide a bigger picture on human social interaction and its multimodal nature.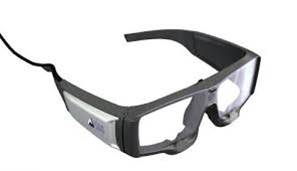 The Lab uses portable SMI- and Tobii-Eye-Tracking glasses. These enable the precise tracking of the gaze behavior of those who wear them. Compared to the analysis of video recordings from external perspectives only, Eye-Tracking has the advantage of measuring the focus of attention (not only the approximate head and gaze direction) systematically and with a high degree accuracy. They enable us to reproduce the precise gaze-fixation and movement for every speaker at every moment  during the conversation.
The glasses include a stereo microphone and a scene camera tha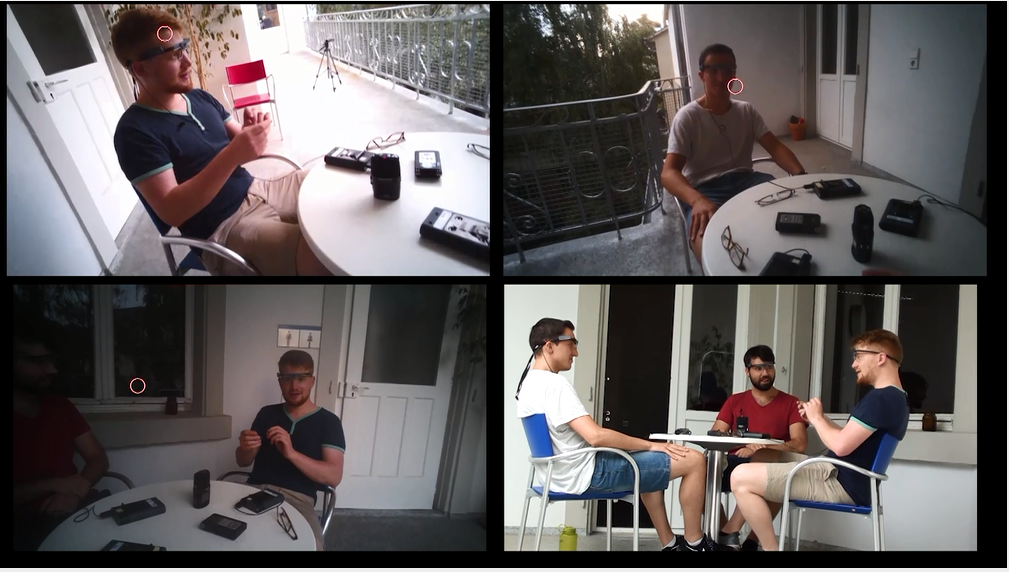 t records what the speaker sees from her perspective. Furthermore, they also include two cameras to record the movement of the speakers' pupils (installed in the frame of the glasses on both sides of the speaker's nose), and appearing as a tracking cursor in the video. The three cameras are overlaid. As a result, the cursors show precisely the focus of visual attention inside the speaker's field of vision.
Aktuelles
Der 1. Freiburger Eye-Tracking-Workshop findet am 30. und 31.01.2020 in Freiburg statt.
Programm:
Donnerstag

11.15-13.15h    Besprechung technischer und methodischer Probleme
                         Erfahrungsberichte von den verschiedenen Systemen, die in Gebrauch
                         sind (Tobii, mit und ohne i-motions, Ergoneers)
                         Diskussion technischer Probleme (Input: Rühlemann/Warchold,
                         Stukenbrock, /Lauer/Balthasar)
                         Kalibrierungspraktiken (Input: Kesselheim)
                         Verwendung von Markern (Input: Kesselheim)
                         Präsentationsverfahren (z.B. mit splitscreens)

14.30-15.15      Clarissa Weiß: Blick und Turn-Taking in face-to-face-Interaktionen
15.15-16.00      Elisabeth Zima: story space, interaction space, memory space (zu den
                         Thesen  von Sweetser & Stec zur Gestik bei Erzählungen)
16.30-17.30     Angeliki Balantani & Anja Stukenbrock: "so" (Datensitzung)
Freitag
9.00-9.45         Geert Brone: Ironie und Augenkommunikation
9.45-10.30       Peter Auer & Elisabeth Zima: Kann der Blick Ko-Konstruktionen elizitieren?
11.00-12.00     Johanna Hantsch: Blick und Rezipientensignale (Datensitzung)              
13.30-14.15     Wolfgang Kesselheim: Koordinierung von Blick in side-by-side-
                        Konfigurationen
14.15-15.15     Stefanie Lazaro / Anja Stukenbrock: Aufmerksamkeitsfokussierung/joint
                        attention (Datensitzung)
15.45-17.45     Kerstin Botsch/Katharina Balthasar/Barbara Laner:  Projekt "Nationalpark
                        Schwarzwald": Ziele, methodische Probleme, Datensitzung mit ersten 
                        Analysen
Das Treffen findet in der Belfortstraße 16, 2.OG (Common Room) statt.